A tiny adorable puppy, Gracie, was recently dumped at a vet's office. She was covered in maggots and had hair missing under her eyes, feet, and tail. The vet also noticed that she had two missing front legs. It was a birth defect, making it difficult for her to walk.
The vet decided to reach out to a local rescue, Mostly Mutts. Their team of volunteers quickly rescued the little one. They immediately fell in love with the cute puppy. She had a wonderful personality and was very sweet and friendly with everyone.
The Turley family, from Kennesaw, Georgia, wanted to adopt Gracie when they met her. Gracie had a dog sibling who was also a special needs dog. The little puppy's brother loved to pull her around.
She quickly adjusted to her new home. She also had an amiable 3-legged fur sister. Gracie's mom knew she needed a wheelchair, but Gracie was a growing pup. Mom knew that Gracie needed something that would grow with her.
So, she asked a 12-year-old volunteer, Dylan, at Mostly Mutts to help her. She asked Dylan to build Gracie a wheelchair from "LEGO." A couple of weeks later, the little one could get around on wheels.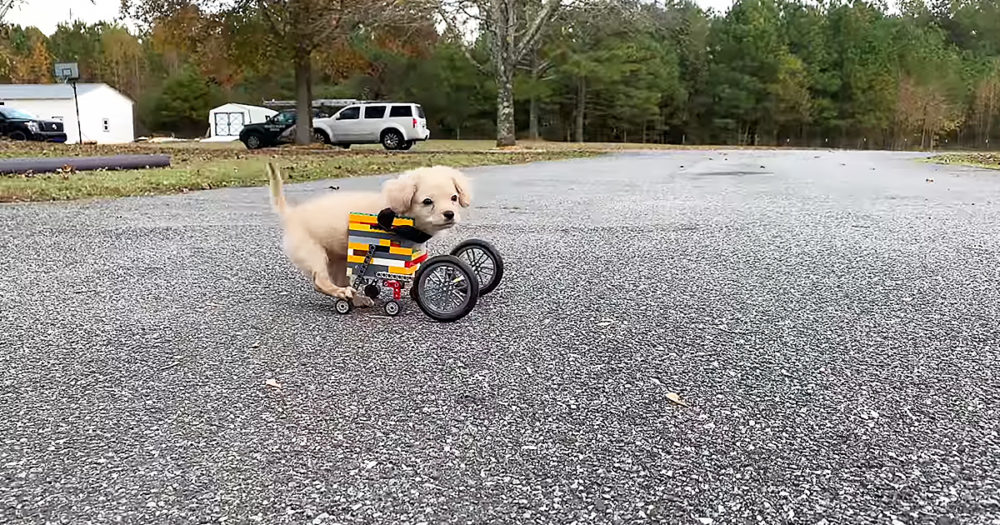 Gracie could now go for walks. However, she soon outgrew her first "LEGO" wheelchair, and it was time for a new one. Her second wheelchair was a bit bigger than the older one. However, this one had bigger wheels. Soon she got her third chair. She was now one year old and had grown up to her maximum size.
Gracie soon received her permanent wheelchair from "Joey Paws and Ruff Rollin Chairs." However, the little puppy got along fine without her chair, although the chair kept her chest and spine safe.