Everyone who don't afraid dogs like to petting them. One of good relaxing things is hugging your cute and friendly pet. But do you know that only human like petting?
Some dogs or puppies can also enjoy of petting other dogs. In our article we want to tell about a dog who also enjoys pupping other dogs.
Ruby, a German Short-haired Pointer, went to Den Doggie Daycare in Burlington, Ontario, with her brother, Miles. She was one of those dogs who loved making friends at the daycare in a very unique way.
Ruby used to pet the other dogs at the daycare. The adorable treatment of her fellow was noticed by the staff member, Alannah Lorraine, who captured the moments and shared them online with her friends and followers.
Thousands of people enjoyed Ruby's cute greetings. However, Ruby's daycare pals were a bit confused by her behavior. They considered her paws a sign of affection on the other dogs' shoulders.
Ruby would even give them sweet kisses on their faces. Her friends allowed her to greet them by licking their faces and petting them on their heads. The only thing the dog knew was that her way of greeting could get her new friends.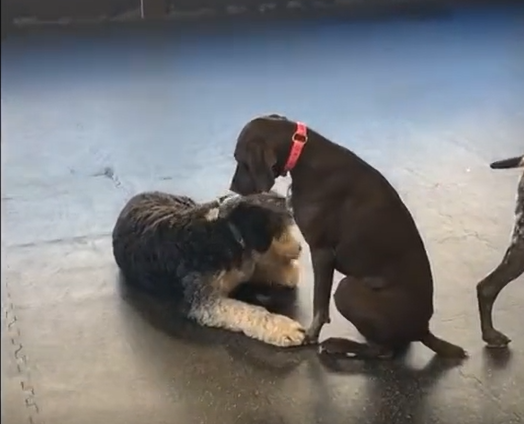 Ruby would express herself without giving it a second thought. So many people adored her for the way she showed interest in her four-legged friends and petted their shoulders or heads.