Kendall Jenner has been popping up at art fairs for years now, frequently hitting the club circuit with Bella and Gigi Hadid during Art Basel Miami Beach.
But it turns out she's been doing more at fairs than just partying with fellow models. She has also been building up an enviable art collection, which she showed off in the August issue of Architectural Digest. The centerpiece of the collection—and the cover star—is a glowing James Turrell wall sculpture that casts a haze of colored light in the entryway of her Mediterranean-style mansion.
"I wanted this piece to be a focal point of the house, and I'm so hyped to have it here," Jenner said. The Keeping Up With the Kardashians star and supermodel became a fan of the Light and Space artist thanks to brother-in-law Kanye West, who notably donated $10 million to help Turrell complete his Roden Crater opus.
A representative for Pace Gallery confirmed that Jenner purchased the piece at the gallery's joint presentation, with Kayne Griffin Corcoran, from Frieze Los Angeles earlier this year, where it was priced at $750,000. It appears Jenner also took the initiative to turn Scorpius, Medium Elliptical Glass (2019)—which, in press photos from the fair, is a horizontal oval—sideways. (Although some Turrell works are sold as either horizontal or vertical ellipses and normally cannot be reoriented, this series, the gallery notes, can be installed in either direction, per the collector's wishes.)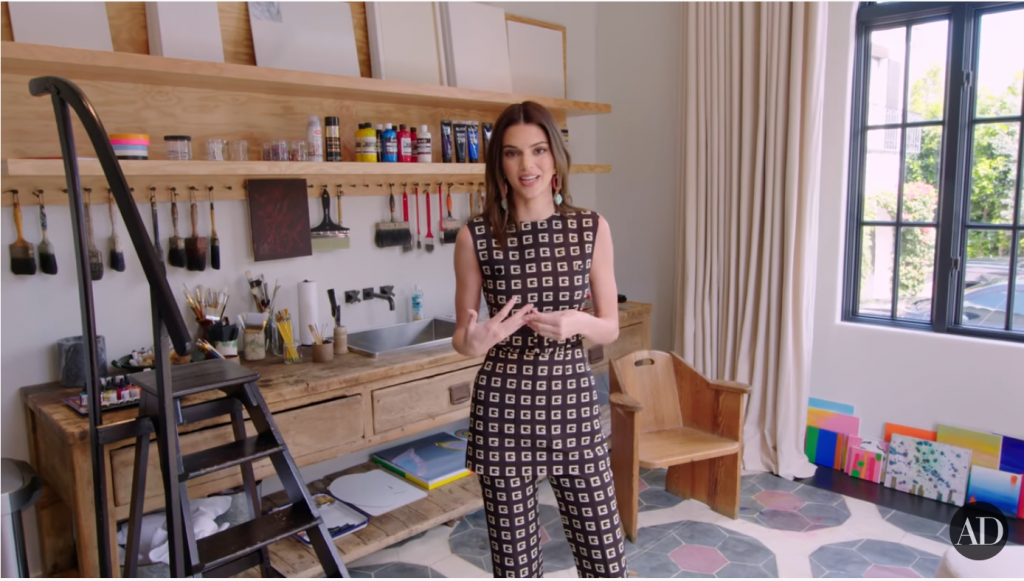 Jenner, age 24, bought the house in the Beverly Hills, once owned by actor Charlie Sheen, for $8.55 million in October 2017. Interior designers Kathleen and Tommy Clements and Waldo Fernandez were in charge of decorating the five-bedroom home. And while it isn't mentioned in AD, Jenner has also been working with art advisor Meredith Darrow to build out her holdings.
Her art-filled space includes a neon Tracey Emin sculpture over the bedroom fireplace and a salon-style hang above the dining room table, anchored by a Lauren Greenfield photograph of Beverly Hills high school students ditching class. (Notably, the Greenfield work is part of her "Generation Wealth" series meant to critique society's obsession with money, fame, and status—essentially, our desire to keep up with the Kardashians. Greenfield photographed Jenner's older half sisters, Kim Kardashian and Kourtney Kardashian, for the project in 1992.)
Her contemporary art collection is decidedly less blue chip than Jenner's, with a colorful geometric canvas by LA-based artist Austyn Weiner and a painting by Eamon Harrington, displayed outside the bathroom next to a giant sculpture of a yellow pen.
The apartment is also lacking in a dedicated arts-and-crafts room—on the West Coast, Jenner converted what was once a home theater into a place to paint.
The reality star doesn't claim to have any artistic talent, but considers art a great form of therapy. "I love coming in here and just vibing out and making really horrible things," said Jenner.