Cambria was new to farm life. The family was still learning how to raise animals and their 4- and 7-year-old children on their 2-acre homestead. Cambria is used to doing all the housework by herself.
Their home was located in the hills of Southern California. It included farm animals such as Nigerian pygmy goats, guardian dogs, Great Pyrenees livestock, and chickens. Cumbria recently shared some adorable moments as she did her evening chores on the farm after returning from her son Kane's baseball game.
The animals were hungry and wanted to eat. So the good woman went through the barnyard to feed them. Her goats, Chocolate, Fiona, and her guardian dog, Millie, recently had babies, and this is the first time she has kept them together.
She separated the other animals so mothers could relax while they took care of their babies. She made puppy porridge for Millie's babies. Another guardian dog, Bubba, was waiting for the owner at the doorstep of the barn. Cindy, one of the other goats, greeted her while Millie was waiting for her in the enclosure. Fiona and her little ones also roamed the enclosure.
Chocolate's babies were jumping, and their mother was walking patiently. Cumbria gave the goats their evening grain before letting everyone in and giving the pups their food. Fiona's baby, Bernice, grew up pretty fast and now weighed over 3 pounds. The little puppies ate like cute little monsters.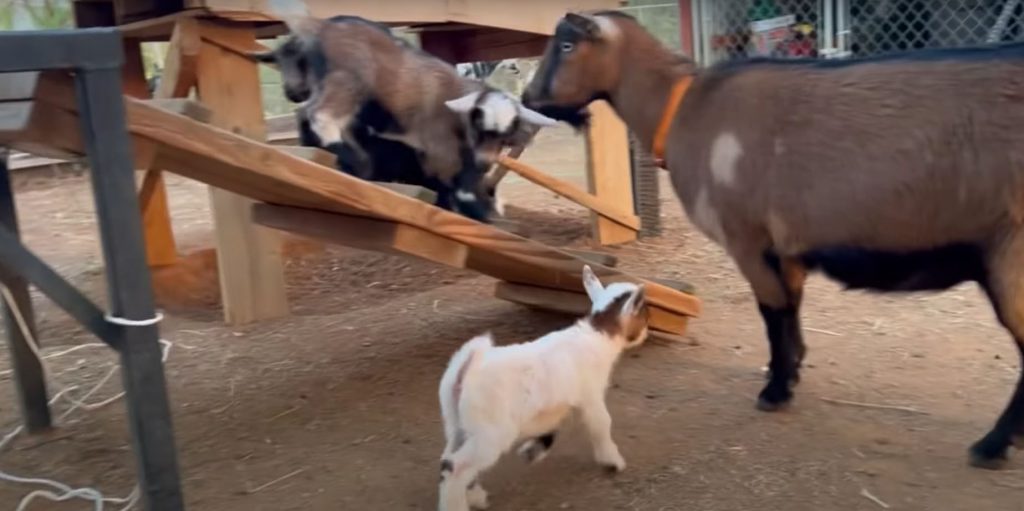 Cumbria gave the mothers evening grain and made sure all the babies were with the females. One of the puppies was unable to return to the enclosure and received help from Cumbria. Later she began to feed the mother hen. However, she was afraid of them and allowed them to be what they are for the time being.
She soon said goodnight to the goats, gave Bubba his food, and held little puppy Blue in her arms, as he reminded her so much of her dad. Finally, she put fresh bedding in the aviary with the heaters on and was ready to leave the animals for the night.