The title of "King of Rock 'n' Roll" was surely won by Elvis Presley, one of the best-known musicians of all time. He is credited with creating the modern American pop music genre by fusing R&B, gospel, and country music. He was also a major movie star and a beloved sex symbol whose onstage moves, highlighted by those showstopping hip gyrations (hence his other nickname, "Elvis the Pelvis"), inspired generations of performers and flustered his critics.
Early in his career, Elvis Presley had some rather harsh criticism from music journalists.
Early in his career, numerous critics made fun of Presley for everything from his voice to his explicit dancing, despite the fact that he is today one of music's most revered superstars. Columnist Dorothy Ricker stated in the Tampa Bay Times in 1956, "He cannot sing, and his entire performance is filthy and revolting," before predicting, "In a comparably short time he will be forgotten." (Oops!)
Elvis Presley's identical twin brother died at birth.
Jesse Garon Presley, Elvis' identical twin brother, was stillborn. Soon after they were born, he was buried in a cemetery close to the Presleys' Mississippi house.
Elvis Presley had a black belt in karate.
Presley started learning karate while serving in the Army and was stationed in Germany. Karate would become a lifelong interest for Presley. After receiving his seventh-degree black belt in 1972, he put his understanding of the fighting style to use by choreographing fight scenes for his films. Even at performances, he would display some of his moves on stage.
Elvis Presley had one of the most successful concert residencies in history.
Beginning in 1969, the vocalist of "Viva Las Vegas" appeared twice nightly, seven days a week, in 636 sold-out performances at the International Hotel in Las Vegas. The appearances solidified a professional resurrection that had started with a 1968 NBC return special. The Beatles and other newer performers had taken over the pop charts from Elvis and other early rockers in the early 1960s, but "The King" had returned.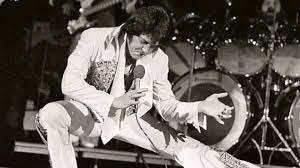 Elvis Presley continues to sell CDs worldwide decades after his untimely death in 1977 at the age of 42, and his impact on the entertainment business is unmistakable. To find out more about Presley's life and career, continue reading.