Starry Skies Equine Rescue and Sanctuary at Ann Arbor, MI, is one of the most significant Equine rescues in the state. Recently a rescued horse, Champagne, had arrived at the sanctuary. The volunteer, Emily Root, was responsible for taking care of the animal.
However, every time Champagne saw Emily, she would walk away. The horse was terrified of people. She expected that even at the sanctuary, she would have to work. Her whole body was filled with scars that ran down to the hind legs.
She was not taken care of for a couple of months now. Champagne was not interested in anyone or anything. A lot of her physical challenges were on her feet. The vet estimated 8 to 10 months since the last time she was trimmed.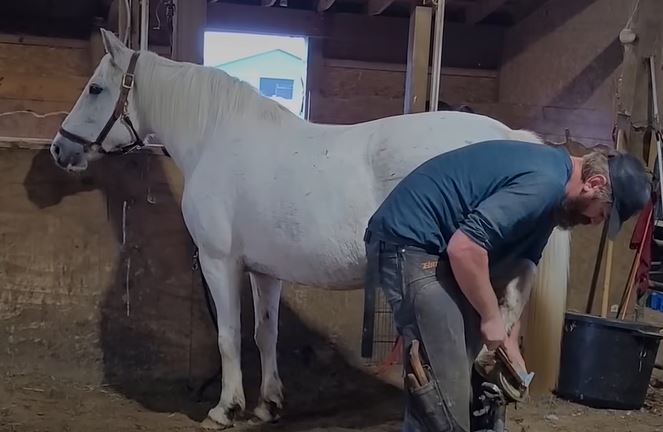 Typically, a horse foot should be trimmed every two months. After cutting the hair on her feet, Champagne felt better right away. However, Emily believed she never had a bath because the dirt kept coming and coming, and it took her an hour to clean her.
One day, the volunteer leader brought her kids to interact with Champagne. The horse did not try to move away from them and realized that kids were not as scary as adults. The beautiful horse was happy to be scratched and loved the attention she got.
She still did not trust Emily, so the volunteer thought of bringing in their puppy Remy to help her open up. The puppy came to work with Emily every day. The little one loved to goof around and had a lot of fun. Soon the two animals became friendly. No one could resist a playful puppy, not even Champagne.
Champagne recovered slowly but steadily and soon realized that she was not in pain anymore. Because of Remy and all the other volunteers, the beautiful horse started to open up. Soon she was adopted by a loving family and joined her new family in Mt. Morris, MI.