A young mother worked tirelessly to provide for her four kids and care for her husband battling a life-threatening ailment. She thought it was only her and her family trying to keep their hopes and dreams alive, unaware that her guardian angel was watching over her.
Random acts of kindness might seem trivial, but in essence, they are powerful enough to change people's lives for the better. Whether it's bringing a smile to someone's face, wiping away their tears, or providing a listening ear — being kind is never a bad idea.
Often, when we receive heartwarming surprises, the thought of our loved ones comes to mind. After all, the people who cherish us would never want to see us in pain. But have you ever been pleasantly surprised by a complete stranger? Today's story will help restore your faith in humanity.
A LOVELY COUPLE
Jessica and Robert Reboredo were a match made in heaven. The pair met through mutual friends and knew they were meant for each other. After tying the knot, they quickly built a family together and became doting parents to four lovely children.
Robert worked as a wood craftsman while Jessica was a waitress at Chili's in Las Vegas. The couple worked hard to provide for their kids, who were all under the age of six.
A TRAGEDY STRUCK
The Reboredos were leading a happy life when an unspeakable tragedy struck their world, turning everything topsy-turvy. At age 25, Robert was diagnosed with testicular cancer, which had spread to his lungs.
However, the biggest and most heartwarming surprise was yet to be revealed.
With his condition, Robert couldn't go home to his family or continue working as a wood craftsman. Instead, he was admitted to a hospital in Los Angeles, hours away from his beloved wife and sweet children.
Jessica went down to see her husband after every few days. However, with money running short, it became tough for her to make frequent trips to Los Angeles, look after her kids, and manage her job as a server in Las Vegas.
SMILING THROUGH THE TEARS
Sometimes, she even had to sleep in her car because she couldn't afford the hotels in L.A. Despite her terrifying ordeal, the brave woman greeted everyone with a warm smile and stayed resilient through life's endless trials and tribulations.
However, her dire situation didn't go unnoticed. Jessica and her family were cared for deeply by Kimberly, her former second-grade teacher. Regarding her student, Kimberly expressed:
"She [Jessica] was sweet and kind I always wanted to have a daughter. We've stayed in contact ever since then."
A COMFORTING PRESENCE
Kimberly said she met Jessica when she was seven years old and went to school in Las Vegas. In fact, the former teacher also witnessed the young couple's beautiful union and was like a second mother to Jessica.
Every day, Kimberly saw Jessica going to work, serving the customers with a pleasant smile, and taking care of her kids. Moreover, Kimberly, who considered Jessica her daughter, revealed how proud she was of the person her former student had become.
HOLDING ONTO HOPE
Kimberly noted that despite the odds, Jessica was still hopeful that her beloved husband and the father of her children would get better and come home. She revealed:
"In her heart, she's [Jessica's] still convinced that he's [Robert's] gonna be here for them."
THE BENEVOLENT CUSTOMERS
Seeing her old student struggling to make ends meet tugged at Kimberly's heartstrings. Eventually, Jessica reached a point where she was not only worried about her husband's medical expenses but was on the verge of losing her home.
One day in 2016, Jessica was serving her usual shift at Chili's when a customer tipped her $200. Soon afterward, the young waitress received another tip of $300, followed by a third customer handing her $500.
The Las Vegas resident was overwhelmed with emotions and couldn't stop thanking the kind customers. However, there was still more to come. A fourth customer asked her, "How much did he leave you?" When Jessica replied, "$500," he reached for his wallet and handed her $1000.
INCREDIBLY HEART-TOUCHING
What happened next wasn't hard to guess. Jessica had an emotional meltdown and couldn't stop thanking the customer for his kindness. With a quivering voice, a teary-eyed Jessica managed to utter:
"You guys have no idea how much this means to me. My husband is actually in the hospital. I almost lost him a week ago."
THERE WAS MORE TO COME
The Chili's waitress had still not recovered from the shock when the FOX 5 Surprise Squad walked in, and a woman named Monica Jackson greeted her.
Jessica stared in disbelief as she received a stack of surprises, including a $10,000 check, a car to get to and from the hospital, and hotel accommodations in L.A. for whenever she visited Robert.
HER GUARDIAN ANGEL
However, the biggest and most heartwarming surprise was yet to be revealed. Who do you think contacted the Surprise Squad and tipped them off?
It turned out that Jessica's former school teacher and second mom, Kimberly, couldn't see her daughter in pain, so she reached out and did what she thought was best.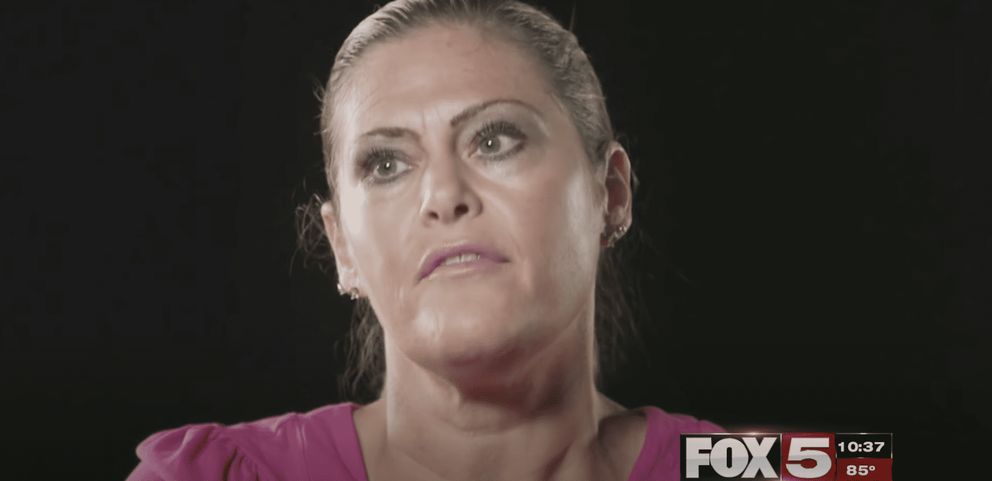 "YOU'LL MAKE IT THROUGH"
When Jessica found out what Kimberly had done, the two shared a long and emotional hug. Tears welled up in Jessica's eyes as she thanked Kimberly and the Surprise Squad for their generosity. "You guys are my angels," said Jessica. She also added:
"I had no idea, I thought it was just me and my family out there trying to do this. Trying to keep all our hopes and dreams alive and trying to bring Daddy back home. My biggest thing is keep your head high and keep smiling because as long as you keep smiling, you'll make it through."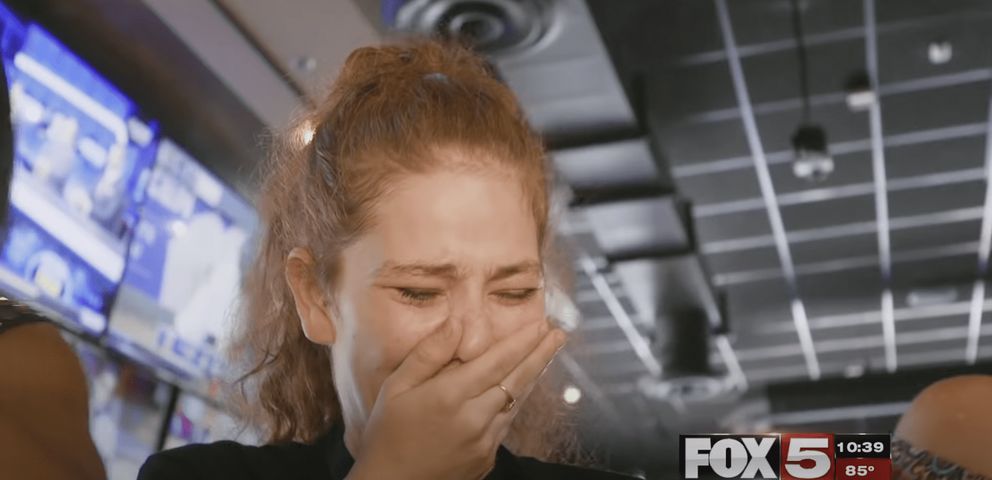 Sadly, Robert lost his battle with cancer and died on August 12, 2016. But we're sure that he must have been immensely proud of his wife for how she managed to steer through life's sore trials and stayed beside him with a smile on her face.
This heartwarming story teaches us that kind-hearted people constantly surround us; even in our most difficult moments, we can receive help from the most unlikely places.
Do you think angels are sent down to us in people's disguises in times of need? If this story touched your heart, please share it with your family and friends.